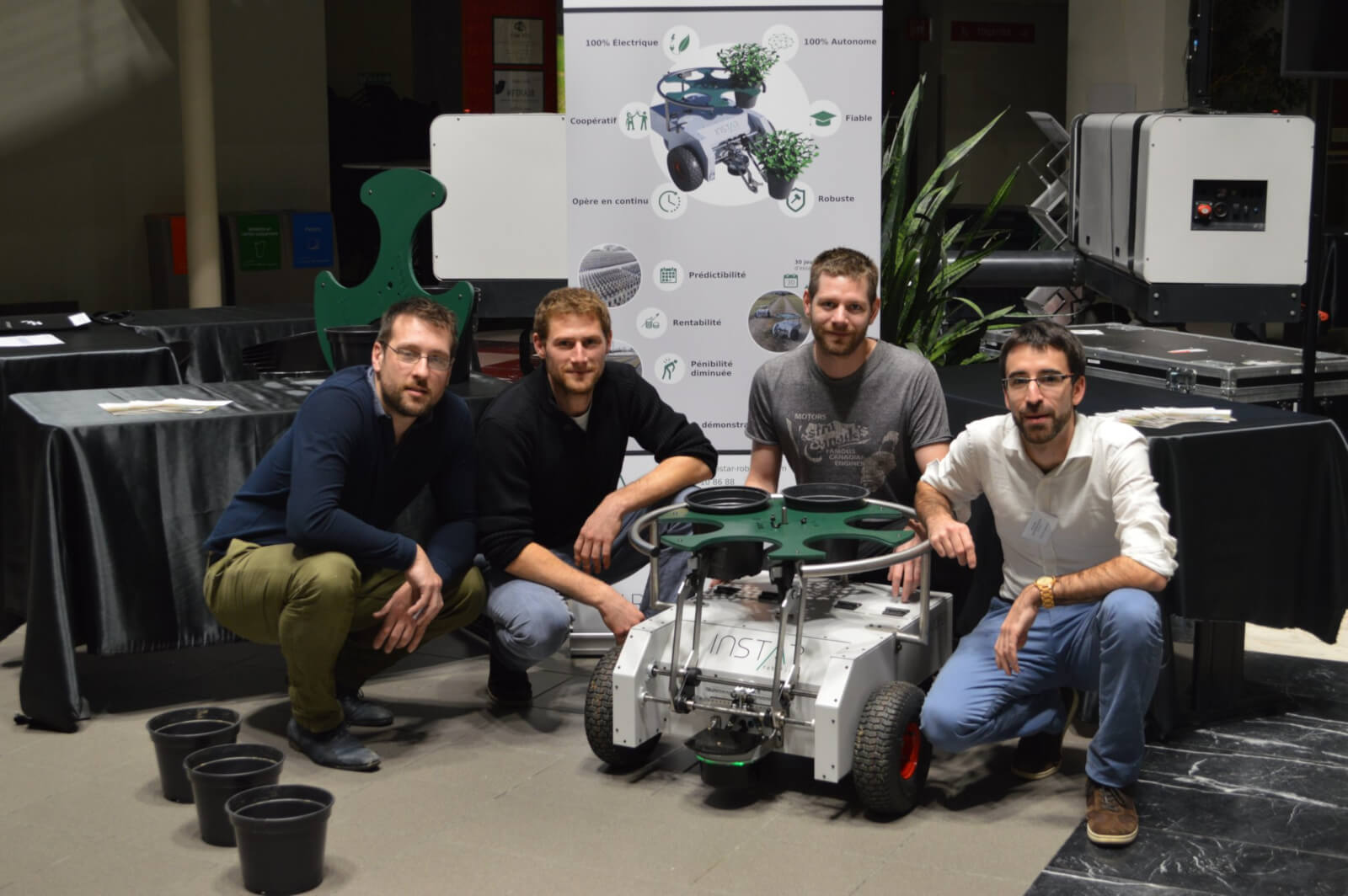 Pierre Delarboulas, Alexandre Oeconomos, Adrien Jauffret, and Nicolas Schoemaeker, the four co-founders of Instar Robotics.
INSTAR ROBOTICS, a young innovative company established in May 2018, develops autonomous mobile robots for agricultural logistics. Our team is committed to creating useful robots with a short and direct value chain. Trooper, our first product designed for agricultural nurseries, handles repetitive and strenuous handling tasks, such as grouping and spacing potted plants. It performs these tasks completely autonomously, thanks to AI based on artificial neural networks.
Designing products as complex as autonomous mobile robots requires the integration of many cross-disciplinary skills and a strong understanding of the agriculture industry. From the launch of our company, we aimed to collaborate with key players in the sector to strengthen our industry vision. Thus, we found in Beauvaisis an ecosystem that combines a university, entrepreneurial, and industrial hub, rich and responsive, eager to develop innovative products.
It all started with a fortuitous encounter at the 2018 Agricultural Fair with researcher Davide Riz from UniLaSalle engineering school, who was presenting a student project on autonomous mobile robots for weed management in open-field crops. We quickly got along, and that's how we met Agathe Vuillemenot, who understood our needs and the value of collaboration. Thanks to her, we discovered the Beauvaisis ecosystem: UniLaSalle school and the Agrilab Fablab, which had just opened its doors. She immediately put us in touch with the Rev'Agro team, which was launching its first call for agricultural innovation projects.
Winning this call for projects gave INSTAR ROBOTICS a real boost, as it needed support from the ecosystem. Thanks to Rev'Agro, we were able to accelerate the development of the prototype at the Vivatech 2019 exhibition at the Hauts-de-France booth, and we were present at the SIMA 2019 exhibition during the Agricultural Innovation Award ceremony.
Finally, the fruitful collaboration between Beauvaisis and INSTAR ROBOTICS doesn't stop there and continues. After coaching the UniLaSalle student robotics team, which won the Rob'Olympiades 2019 trophy, INSTAR ROBOTICS became a member of AgriLab. We have launched two research projects led by Simon RITZ and Davide RIZZO, two researchers from UniLaSalle, and Medhi Jaber, the FabManager of AgriLab. We are working together on future robots with the school's students.
For now, the call for projects is not open